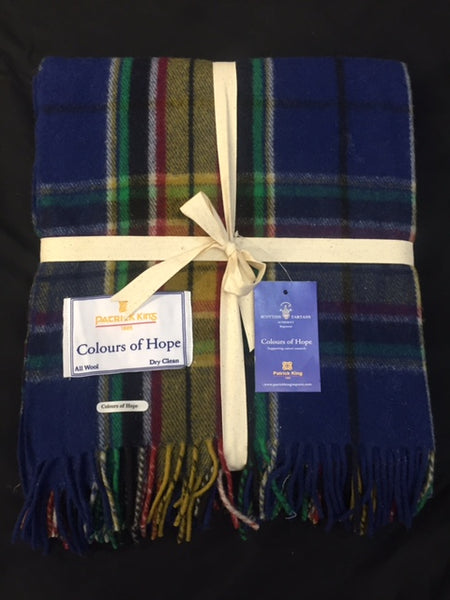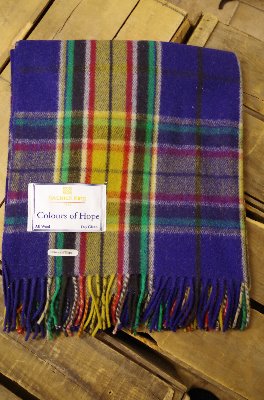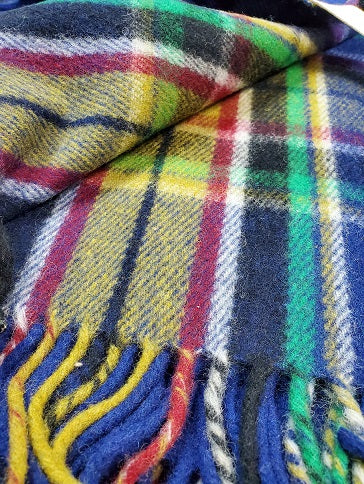 Colours of Hope Tartan Deluxe Merino Wool Blanket
Gorgeous All Wool Blankets by Edinburgh Tartan Wool Collection. Matching Wool Throw Cushions also available.
100% wool tartan blanket throws that have been our best sellers over the years!
These tartan blankets add a warm, cozy feeling to any home.  Makes a beautiful touch of rustic country flair at your cottage and to any living room. They are perfect to add to around the house as the cold season approaches, plus they're also in their element for a summer picnic! A great gift for well-loved clients.
Fine Wool Blanket 69" x 62" with a 3" fringe

Colours of Hope:

The Colours of Hope tartan was designed with the goal of offering encouragement, acknowledgement and hope to the Warriors and Warrior supporters in their battle against cancers of all types. Tartan is symbolic of determination and bravery with the colours of the fabrics representing or identifying their roots. The threads woven in the Colours of Hope tartan represent roots of strength and a celebration of life!

Blue: the colour of strength
Yellow: the colour of the daffodil-symbol of Cancer Societies worldwide as well as of optimism and energy.
White: is associated with hope and faith.
Red: represents love, courage and determination.
Green: being the colour of life is associated with healing.
Black: the thin black lines running thru the weave represents dignity and consideration for all individuals and families whose lives have been impacted by Cancer.

Using a shutterless loom for our Highland Collection gives the blanket a much softer feel which produces a higher quality wool detailing more vibrant colours within the tartan.
Recommendations