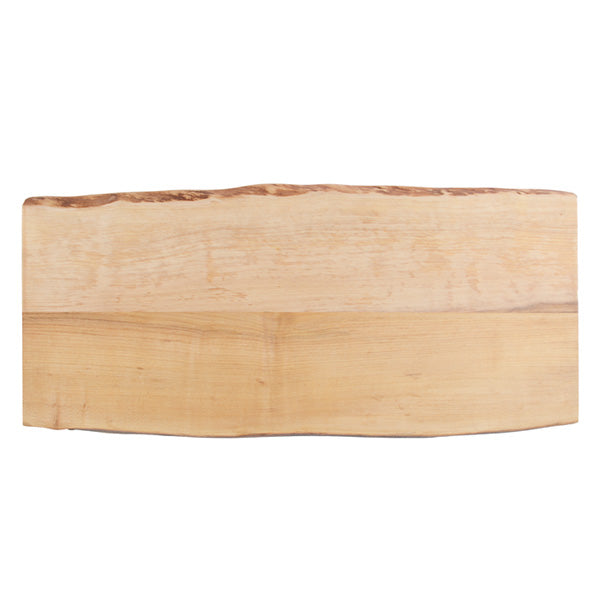 Live Edge Charcuterie Board
Enhance the look of your kitchen with this stylish, functional and durable cutting board with natural edge.
Crafted by mother nature from native hardwoods in Canada, our Live Edge Cutting Board is unique and a work of art. The wood is 100% ethically sourced in Canada. Cut from a two pieces of natural hardwood to preserve the contour and pattern of the wood, its less dulling compared to synthetic cutting boards. Has a smooth finish with no chemical polishing agent.
Prized for its beautiful grain and durability, the hardwood of our cutting board makes a handsome surface for beautiful food presentation. Created by a local craftsman using a unique level of artistry and exceptional knowledge of wood, it is 100% food safe. Designed with nature in mind, the natural edge finish allows you to bring in elements of the outdoors in your home.
As a gorgeous addition to your kitchen, our cutting board makes it easy to entertain guests. Useful as a multi-purpose serving board, or a cheeseboard, this gorgeous addition to your home will be the talk of your dinner party. Or, as a cutting board to highlight your gourmet kitchen. Both sides of the cutting board are suitable for serving, slicing and chopping your favourite foods.
Finished and treated with oil or no oil, the multi-purpose cutting board is easy to clean and maintain. The oil used to protect all our cutting boards is natural and food safe.
Great as a valuable gift for a wedding, or your loved ones.
FEATURES

Cut from two pieces of hardwood
Finished and treated with oil or not
Contrasting natural colors
Natural edge
100% food safe
Made in Canada
Dimensions: 45 cm long and 20 to 25 cm wide by 1.9 cm
Weight: 2 KG
Type: Multi-purpose cutting board
Material: Canadian Hardwood Maple
Wash or wipe with warm water and soap and dry thoroughly. Rub with natural mineral oil to maintain and preserve the appearance. Do not soak in water. Not dishwasher friendly. Do not put in a microwave.
Recommendations