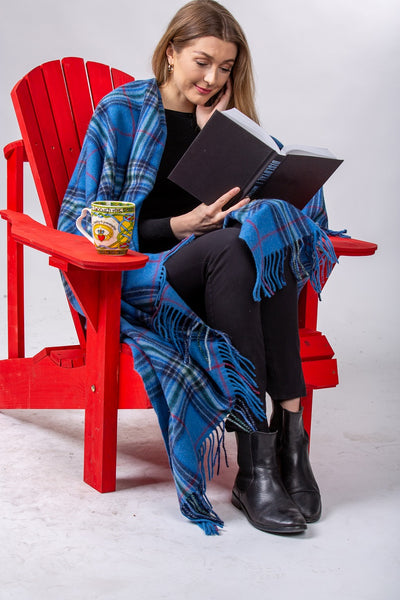 One World Together Tartan Blanket
Gorgeous All Wool Blankets by Edinburgh Tartan Wool Collection. Matching Wool Throw Cushions also available.
100% wool tartan blanket throws that have been our best sellers over the years!
These tartan blankets add a warm, cozy feeling to any home.  Makes a beautiful touch of rustic country flair at your cottage and to any living room. They are perfect to add to around the house as the cold season approaches, plus they're also in their element for a summer picnic! A great gift for well-loved clients.
Fine Wool Blanket 69" x 62" with a 3" fringe

This tartan was designed in honour of our planet and our home and is a reminder that the sustainability of our planet is the responsibility of us all. The name represents how we share this one world, and how together we can make a difference in keeping it healthy and protecting its inhabitants, lands and oceans. Colours: green represents maintaining a healthy planet; blue represents the world's oceans; white represents peace; black represents dignity and equality and red represents love.

20% OF ALL ONE WORLD TARTAN PRODUCTS ARE DONATED TO THE CANADIAN WILDLIFE FEDERATION.

About the Canadian Wildlife Federation:

The Canadian Wildlife Federation is a national, not-for-profit charitable organization dedicated to fostering awareness and appreciation of our natural world. By spreading knowledge of human impacts on the environment, sponsoring research, developing and delivering education programs, promoting the sustainable use of natural resources, recommending changes to policy and co-operating with like-minded partners, CWF encourages a future in which Canadians can live in harmony with nature. For more information visit CanadianWildlifeFederation.ca.
Recommendations