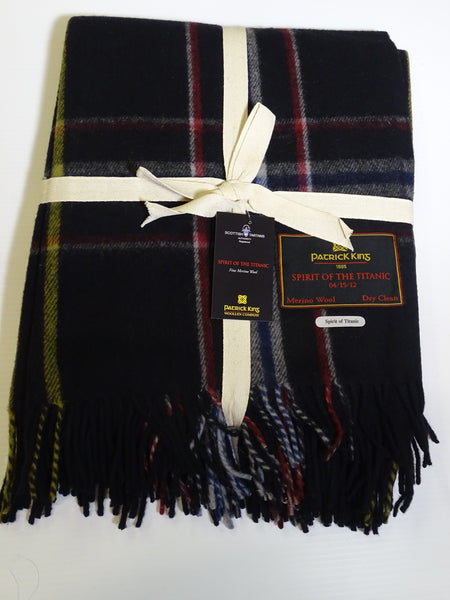 Spirit of the Titanic Tartan Deluxe Merino Wool Blanket
Gorgeous All Wool Blankets by Edinburgh Tartan Wool Collection. Matching Wool Throw Cushions also available.
100% wool tartan blanket throws that have been our best sellers over the years!
These tartan blankets add a warm, cozy feeling to any home.  Makes a beautiful touch of rustic country flair at your cottage and to any living room. They are perfect to add to around the house as the cold season approaches, plus they're also in their element for a summer picnic! A great gift for well-loved clients.
Fine Wool Blanket 69" x 62" with a 3" fringe

The Spirit of the Titanic tartan is a tribute to the lost souls and the bravery of the remaining passengers that perished during this tragic event. The threadcounts 04/15/12 mark the date of the sinking of the Titanic. The black base colour of the tartan represents the massive hull of the Titanic with the dark blue stripe representing the cold waters of the North Atlantic Ocean.
The white and red stripes is an acknowledgement to the White Star Line and the Canadian Maple Leaf for the role in the recovery and care of the lost souls with Halifax, Nova Scotia being the final resting place of 150 passengers within three cemeteries, with the ship going down 640kms off the east coast of Newfoundland.
The gold threadcount of 8 is dedicated to the brave band members that continued to play in an effort to calm and comfort the passengers as the ship was sinking.

Black is for the hull of the titanic
Dark blue is for the Atlantic Ocean
Red is for Canadian Maple leaf, in Canada's role in the search and the final resting place for 150 souls resting in 3 cemeteries located in Halifax, NS.

Incorporated in the thread counts is the date that the Titanic fell to the ocean floor of 4/15/12 with the gold thread count of 8 representing the 8 brave souls of the band that played to comfort the remaining passengers.
Recommendations