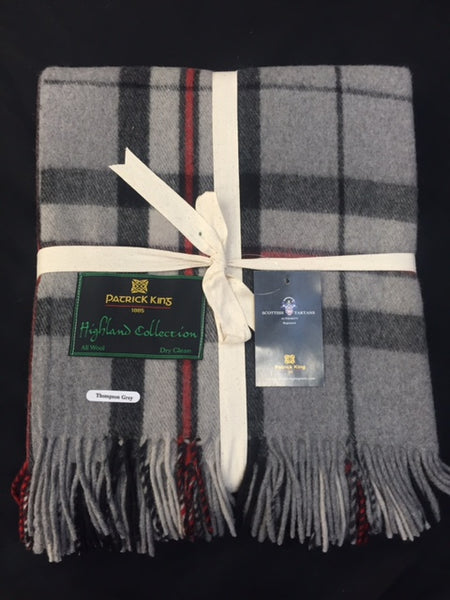 Thompson Grey Tartan Deluxe Merino Wool Blanket
Gorgeous All Wool Blankets by Edinburgh Tartan Wool Collection. Matching Wool Throw Cushions also available.
100% wool tartan blanket throws that have been our best sellers over the years!
These tartan blankets add a warm, cozy feeling to any home. Makes a beautiful touch of rustic country flair at your cottage and to any living room. They are perfect to add to around the house as the cold season approaches, plus they're also in their element for a summer picnic! A great gift for well-loved clients.
Fine Wool Blanket 69" x 62" with a 3" fringe

Once thought to be a sept of Clan Mactavish, Clan Thompson is a clan in its own right. The first known appearance of Clan Thom(p)son was the Thompsons of Eskdale who were known to be fierce border reivers. They were infamous for their raids in the border regions between England and Scotland. Although not linked by blood, the clans do share a tartan – Thompson Red Modern.
Recommendations