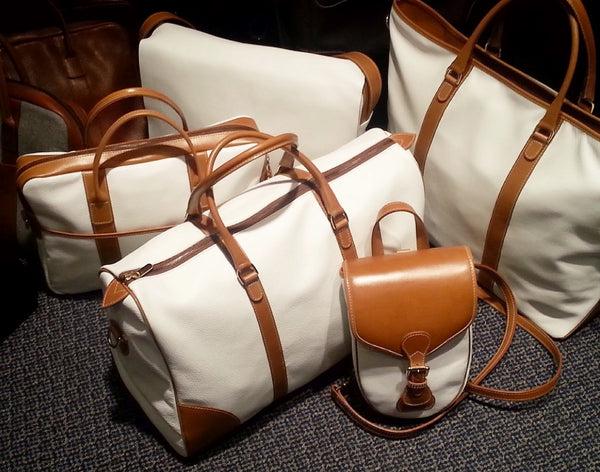 Group of Bags, White Pebbled Leather
This group of bags showcases from top left to right: Messenger Bag, Weekender, Small Day Satchel with Buckle, Full size Duffle, and Jetsetter (perfect for laptops, iPad, Tablets and other tech items as well as a Unisex Briefcase. Lines are clean and uncluttered to provide ease in carrying and travel for a short getaways or business. They are easy to store in an overhead compartment, pack in the back seat or a small truck of a car.  
The eye follows the beauty of pebbled top grain leather trimmed in smooth glazed leather for a truly Italian design. Pebbled leather is available in many colours as well as the the matching smooth leather trim. The logo  can be applied as a metal emblem or a debossed leather patch stitched on one side of the bag. Either way they're branded, these bags will turn heads. The inside of the bags are furnished with a zippered pocket and another compartment for essentials. The bags can be designed and modified to suit your needs. Little feet are attached on the bottom of some of the  bags to avoid scuffing. 
A pre production sample will always be provided prior to manufacturing.
Made in Canada. Various prices. 
Recommendations